Lennart Nilsson is 84, but still speaks of scientific photography—a field he pioneered—with infectious enthusiasm and emotion. Especially when talking of his latest project, in which he uses a lab at Stockholm's Karolinska Institutet to capture images of viruses at work—nature's "real biological terrorists," he said.
Andrew's earlier post mentioning The Paris Review's interviews with influential writers reminded me of the Leakey Foundation's audio archive of well-known anthropologists discussing their work:
These selected excerpts from interviews and lectures are firsthand recollections of many of paleoanthropology's great pioneers describing moments of discovery and sharing anecdotes from their research experiences in the field.
Link.
Forget the naysayers of the "blog-ass-sphere": George Bush's State of the Union reeked of bold visions of a future where cars eat corn on the cob and job-creating robots are programmed to create even more jobs.
Disclaimer: I haven't actually watched the State of the Union. Is that bad?
Ninja kittens. That's soooo book.
A small brewery in the Netherlands has launched a new beer designed to bring cool relief to thirsty dogs.
Link (Via Mirabilis.ca).
Worth it for the picture. (I really need to be doing some work.)
Ohlala ! I'm somewhat speechless. I really don't know what to say to this.
Link (Warning: possibly not work-friendly).
ETA: I wonder if this is from the Russian version of the National Enquirer?
Rebekah's [wedding] dress is completely made from toilet paper. She even has working toilet paper buttons on the back! This dress is worthy of a bridal catalogue!
Also of note is Jaymi's TP basketweave top.
Link (Via Smidigt.se)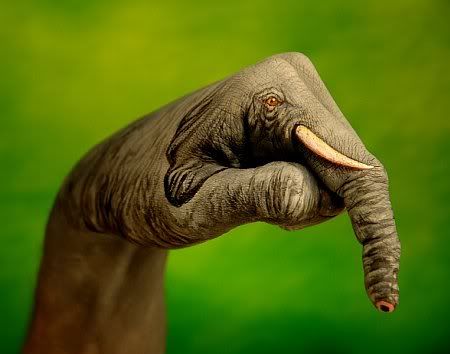 Hillary Clinton's abrupt announcement on Saturday that she is running for the presidency is a sign that her campaign is already in trouble.
…you will also find frequent, justified expressions of frustration, even despair, at the state of foreign-film appreciation in the United States. The movies are out there, more numerous and various than ever before, but the audience — and therefore the box-office returns, and the willingness of distributors to risk even relatively small sums on North American distribution rights — seems to be dwindling and scattering.
Link (Via Arts Journal.)
OK, I'll jump on this bandwagon.
I think this was on a Saturday morning, snapped in one of the little Ikea mirrors by my desk. Who knows what I was doing—probably avoiding something more important—but I like my brother's response: "Put a damn shirt on!"
One of the most influential linguistic urban legends of all time: the idea that Eskimos have countless words for "snow." In truth, Inuit and Yupik language families (there is no one "Eskimo language") don't have many more terms for snow than other languages do.
Link. NB: Free registration required to read article. (Via Arts Journal.)
School started this week—naturally, I'm already behind—but I'm trying to get caught up with stuff that I've spotted and wanted to post. How about this to get started:
A retired Italian antiquities thief told a Rome court that tomb robbers provide an important service by saving ancient art and helping to preserve a historical record.
Link (Via Arts Journal)
A new TV drama about the British royal family is in production and will be broadcast next year, Britain's ITV television network said Thursday.
The keepers of the "Doomsday Clock" plan to move its hands forward next Wednesday to reflect what they call worsening nuclear and climate threats to the world. The symbolic clock, maintained by the Bulletin of Atomic Scientists, currently is set at seven minutes to midnight, with midnight marking global catastrophe.
Advertisements appearing this week in British, U.S., Australian, German and Norwegian newspapers will ask "Can you trace your family tree back to 1066? Might your ancestors have claimed the English throne?"
Link (Via Mirabilis.ca.)
Scientific issues and innovations seem to creep into everyday conversation more than ever before. Recognizing that we could all use some expertise in hot science topics, Seed offers its Cribsheet.
The backers of the One Laptop Per Child project plan to release the machine on general sale next year. But customers will have to buy two laptops at once – with the second going to the developing world.
Rather than rejoice in the reconciliation between García Marquez and Vargez Llosa, I believe feuding pens write with more wit than the nibs of praise.
An Australian zoo is putting humans on public display in its orangutang enclosure in a month-long scientific experiment that will also include a popularity contest.
I couldn't help thinking of poor ol' Ota Benga, as I read this.
The Mexican blind cavefish raises the challenging evolutionary question: Does disuse lead to degeneration or disappearance of a feature? Here, an answer Darwin would have loved.
If jazz is characterized as a blend of European and African elements that could only have taken place in America, then the French are entitled to take credit for the Old World side of that equation.
Would Penelope Cruz's performance in Volver have been met with the same rapture had she not been lisping in Spanish?
Human habitation has been, and is increasingly, playing a direct role not only in the extinction of species, but in their evolution. By our own actions, we may be accompanied into the future by ever more diverse pests and pathogens, and may leave behind what we value most—elephants, tigers, and others of the earth's great megabeasts.
The silent empire has expanded again. There is so much to celebrate – but why do we see so little celebration?