Chicago is the only big city that does not permit food truckers to cook on their trucks.
Long story short, in the battle of truck verses brick, a small group of those with a special interest are doing the best they can to fight the natural order of competition, free economy, and consumer demand by wrapping it up in veil of public health and safety. I understand the other side, and the other side has been my livelihood for the better half of my adult life, but at the end of the day it's classic Chicago politics, and we are simply not comparing apples to oranges. As everyone on the panel agreed, there's enough room in this city for both to coexist, and we have to wonder how long Chicago can sit on this fence when the rest of the country has jumped on board. I mean, when coverage of the city's backward policies make the Wall Street Journal, ludicrous is right.
Brisk modern style, in the form of cubist decor and streamlined furniture, provided assistance in the late 1920s and 1930s [to restaurant owners seeking quick customer turnover]. Artist and industrial designer John Vassos, who illustrated the book Phobia, felt he understood psychology well and successfully applied it in his 1931 design of NYC's Rismont Tea Room, where the tables were a bit too small and chair seats were triangular. "The chairs are comfortable — if one doesn't sit too long on them," he wrote. [See photo.]

Uncomfortable chairs would become known in the restaurant industry as "15-minute chairs." Charles Eames' fiberglass scoop chair might be an example, offering little possibility of posture realignment.
Thomas Kinkade died on Friday.
Kinkade labeled himself the nation's most collected living artist. His paintings and spin-off products bring in about $100 million a year in sales, and are said to be in 10 million homes in the United States.
By my (for reasons that will soon become obvious) Twitter-only friend @ChrisKubica:
For those who asked, here is the EULA to be my friend

If you are my friend offline, you agree:

Heretoforwith;

Your stuff is my stuff. Your food is my food. I can sleep on your bed. I can give you kittens. I can take your kittens. I can play your music and your apps. You will provide cuddling within 4-hour's notice. I can ride your dog even if he or she is too small when compared to my size. I can eat whatever is in your fridge or on your counter. I can sit on your counter. I can ask you questions. You will provide all answers in writing, orally and on 8-track cassette. I can wear your various clothing. I can has cheeseburgers. I can show you unicorns. I can believe in rainbows. You will believe in rainbows or pretend to believe in rainbows when I am about. I can have your milk and your jewelry. I can call you good and bad names. I can rock in your hammock and borrow your car. You may guard my house. You should buy me marshmallows. You will buy me books, read me books and lend me your books indefinitely. You will lend me everything indefinitely. You will provide me with five copies of the entire universe. . . .
If, having read the EULA, you wish to request offline friendship with Chris: Anyone also not on Facebook, feel free to use my offline Friend Request template (PDF)
Update: Unfriend Request Form
I added this to the bottom of Casey's marmot tweet-ucation post, but I felt it deserved its own: Teju Cole on what connects Downton Abbey, the IMF, Drones, and Virgin's Upper Class
Naked man high on meth walks into shop, asks for job, fights with police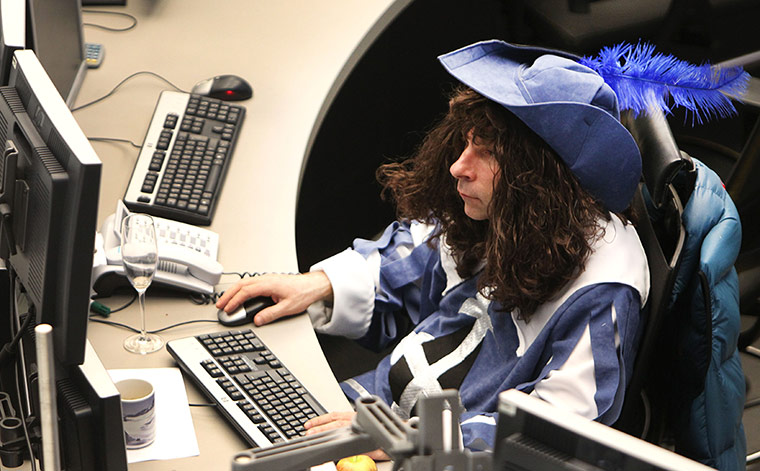 I particularly love the "midnight buffet". At midnight the doors to a vast restaurant open and passengers stream in to gorge themselves on elaborate food sculptures, while one of the staff stands above them with a microphone telling them over the speakers the amazing statistics of how much they are consuming on a voyage.
Heidi Ewing and Rachel Grady, the directors of the documentary Jesus Camp, produced a short video at The New York Times about the dismantling of Detroit.
One freezing evening we happened upon the young men in this film, who were illegally dismantling a former Cadillac repair shop. They worked recklessly to tear down the steel beams and copper fasteners. They were in a hurry to make it to the scrap yard before it closed at 10 p.m., sell their spoils and head to the bar.

Surprisingly, these guys, who all lacked high school diplomas, seemed to have a better understanding of their place in the global food chain than many educated American 20-somethings. The young men regularly checked the fluctuating price of metals before they determined their next scrap hunt, and they had a clear view of where these resources were going and why.
Did Purell Pay to Appear in the 'Dragon Tattoo' Torture Scene?
Hostess filed for bankruptcy protection today. But don't worry, you should still be able to get deep fried Twinkies at the state fair:
The company said that it does not anticipate any disruptions in the making of or delivery of its breads or cake products and reassured that its popular brands, which also include Drake's, Ding Dongs and Ho Hos, will still be available.
From my friend Susan W:
Jehovah's Witnesses made their annual visit to our house. They ended up asking for investment advice from Scott, but left a copy of the Watchtower for our consideration.
Vizio plans to enter the laptop and all-in-one market and undercut competitors' prices while they're at it. While the design certainly falls within the current Apple aesthetic, if I were looking for a non-Apple PC, I'd definitely consider one.
After we'd talked for a while, we got in my rental car and went for a drive around his ward. "It's beautiful, but it's not for us," Knowles said, as we rode through Harbor Shores. "It's not for poor people." I had asked Knowles if he slept at City Hall, and he took me by his house, which he said he rents for about $250 a month. "I don't sell dope," he volunteered, explaining how he pays his rent. "I come out and hustle — electrical jobs, cutting grass, whatever." […]

When I dropped him back at City Hall, Knowles got out of the car and said goodbye, then poked his head back in the passenger window. "Hey," he said, "can you spare a couple of bucks so I can get myself a bag of chips and a pop?"
This is an excerpt from Jonathan Mahler's Simon-esque piece on Benton Harbor, Michigan, for the NYT Magazine a few weeks back. The bit above is from a conversation Mahler has with an unemployed Benton Harbor resident who is also a city commissioner for one of the city's poorest wards.
For those of you who don't know, I grew up in the area and my family has lived there for a few generations. The article is a longer piece focusing on the city's socio-economic problems and new divisions over a golf course and property development on Lake Michigan called Harbor Shores, which is hoped to improve the impoverished city's attractiveness for future investment. The only problem is that most of the developers and proponents for Harbor Shores are affluent and white, while most of Benton Harbor is impoverished and black – oh, and the golf course was built on a chunk of the city's one nice park at the lakefront.
It's a feature worth reading and not just because it's about the clashes between a city's residents and a group of well-intentioned (if not woefully ignorant) outsiders that believe they can solve deeply-rooted problems of poverty and crime by introducing the game of golf. I like to think it's also because Mahler turned my old stomping grounds into a moral fable for today's social, cultural and economic divisions.
There's a mistletoe shortage in Texas, due to drought. But some people don't care.
"In 1901 you needed to be under the mistletoe to steal a kiss in public," said Mr. George. "In 2011, you can do just about anything you want in public and it goes unnoticed." When asked about the shortage, Mr. George was confident there would be no love lost.
Amish mullets are all ordnung in the front, rumspringa in the back.
Claudine Hoskins.
Andreas Gursky's "Rhein II" set a new record for the highest selling price for a photograph ($4.3 million) yesterday. I must say I rather like it, though I do wonder how these things happen.
Exactly what underwear business is better for expecting a baby ladies ?
We're almost on the other side, and the negativity leaves us well positioned to exceed expectations with an I.P.O. baby that, having seen the ultrasound, I can promise you is not one of those uglies.
Nikon had been rumored to be working on a mirrorless camera for the last couple years. The hope was they were developing a full frame digital camera small enough to slip into a coat pocket to rival the digital and film range finders immortalized by Leica. What they ended up producing was a well crafted, replaceable lens camera with a really small digital sensor. The analyses I've read suggests Nikon didn't want to cut into the high end full frame digital SLR market. They make some of the most highly regarded, and bulkiest, cameras in that segment. I guess the thinking went, if we introduce a full frame interchangeable lens camera, and price it competitively, it will undercut our really expensive SLRs. So, once again, if you want the benefits of a full frame camera you can carry relatively inconspicuously, you're left with the six to eight thousand dollar Leica, or any number of film-based range finders.
How climate change denial equates to the tobacco industry.
Behind its flower box framed windows, hidden away from mourners, is an automated storage system. It stores and chills encoffined corpses, delivering them through hatches and into a viewing room, day or night, whenever friends and family come to pay their respects.
(via marginal revolution)